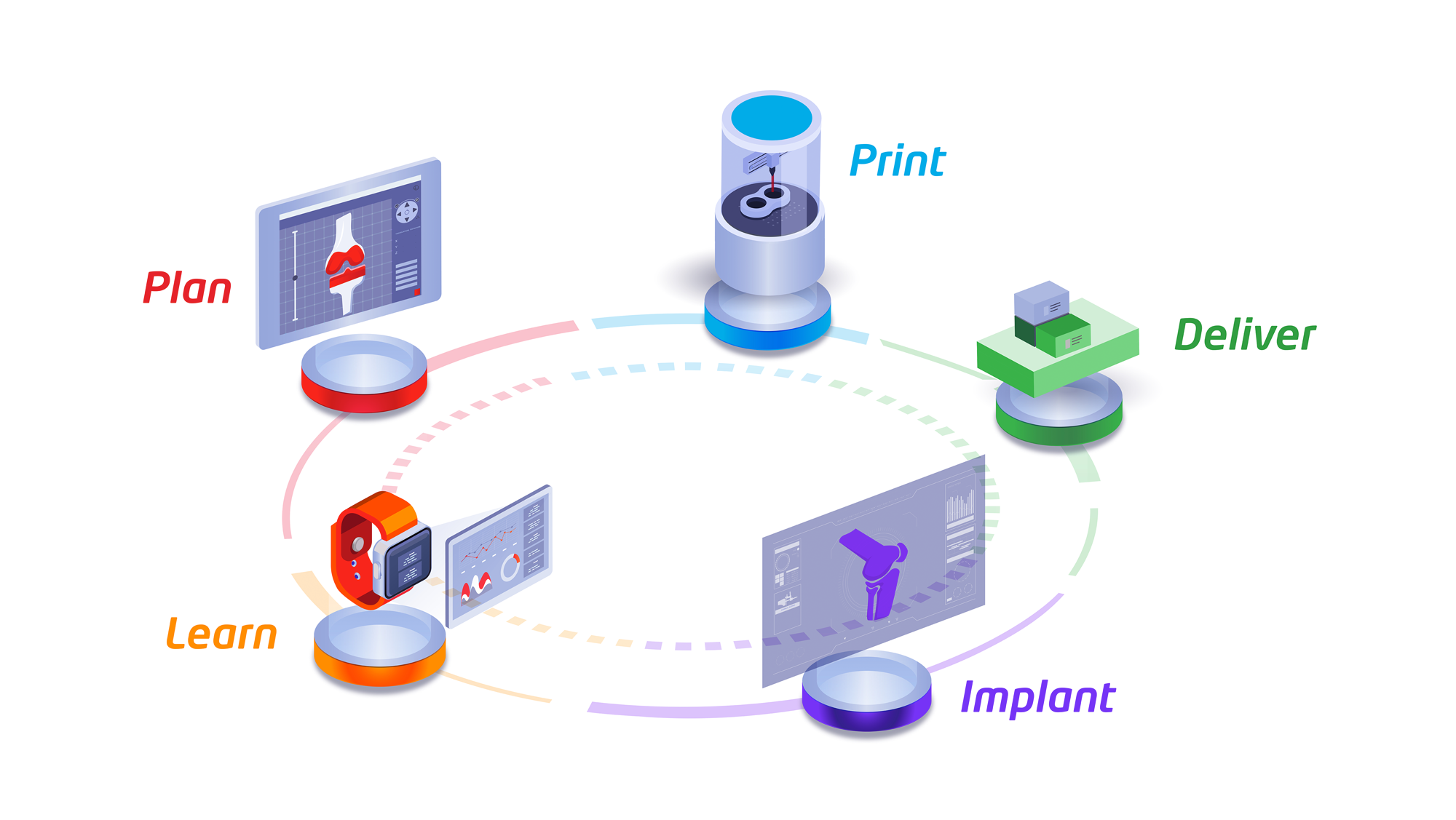 At Enhatch, we strongly believe that open, digital ecosystems will deliver a universe of innovation to enhance the future of surgery, not only for orthopaedics but the entire medical device industry.
In 2022, the Apple App Store is home to over 2.2 million apps that will generate over $650 Billion in revenue across 1 Billion devices. The ecosystem Apple developed has helped them become one of the first companies to be valued at $1 Trillion. But why did the iPhone launch without third-party applications?
Apple and Steve Jobs built a completely seamless and protected ecosystem that did not allow third-parties until Apple could commit to the safety and security of the applications. About a year after the launch of the iPhone, a Software Development Kit (SDK) was released. The following June, Apple launched 500 apps in its catalog. This became a powerful digital ecosystem that would change the way we work and play while connecting billions of people.
Amazon and Jeff Bezos have been able to build multiple ecosystems over the past two and a half decades. Amazon, another well-known ecosystem, transformed how the world purchases goods. E-commerce businesses that use the platform gain incredible access to their target customers.
Bezos then leveraged the incredible computing power he built for e-commerce to power the future of the cloud. With millions of active customers and tens of thousands of partners globally, AWS has one of the largest and most dynamic ecosystems. Customers across virtually every industry, and of every size, including start-ups, enterprises, and public sector organizations, are running every imaginable use case on AWS.
Tesla and SpaceX, led by Elon Musk are building ecosystems on earth and in space. Tesla began as an electric sports car company delivering the roadster for over $150k to 2,500 select owners. Just over a decade later, Tesla has reached an impressive scale delivering over 2 Million beautifully designed and intelligent electric cars for as low as $35,000. To support this network of cars, he also acquired SolarCity and is building a network of solar-powered charging stations around the United States.
In SpaceX, Musk has developed a repeatable and reusable rocket that, in only 7 years, has achieved a record 31 launches in 2021. SpaceX delivers equipment and supplies to the International Space Station as well as deploys satellites to create mega constellations surrounding the earth.
We look to these industry giants to imagine a brighter future for the medical device industry.
Enhatch continues to build the Intelligent Surgery Ecosystem toward this future. We believe this will be the most effective way to solve the impending challenges ahead of an industry that is beginning to change…
Surgeons are faced with more patients every year in need of surgery and the technologies on the market today are often taking longer than traditional surgery.
Patients are looking for more personalized implants and procedures that can improve clinical outcomes while reducing time under the knife.
Hospitals and ASC's require more cost-effective solutions that reduce the burden on the back office. Procedures need to be streamlined and less instruments and implants should be on the shelves and going through Sterile Processing.
Medical Device Companies are trying to reimagine their place in this new world that continues to evolve. They are looking for trusted partners who understand what this future looks like, and have the experience and know-how to help them get there.
Our approach to building this Ecosystem is not unique:
As Jobs and Apple required, we are leveraging a protected network of applications tested and safeguarded for our users.

As Bezos and Amazon developed, we are opening a network of opportunities to smaller, more nimble startups and mid-size companies to compete at a national and global scale.

As Musk and Tesla have shown, we will leverage scale to create incredible efficiencies to deliver enabling technology for the rest of the world at a fraction of the cost.
Want to join the Intelligent Surgery Ecosystem? Schedule an online demo today!