Improve Orthopedic Education: How to Transform Surgeon Training through AR and VR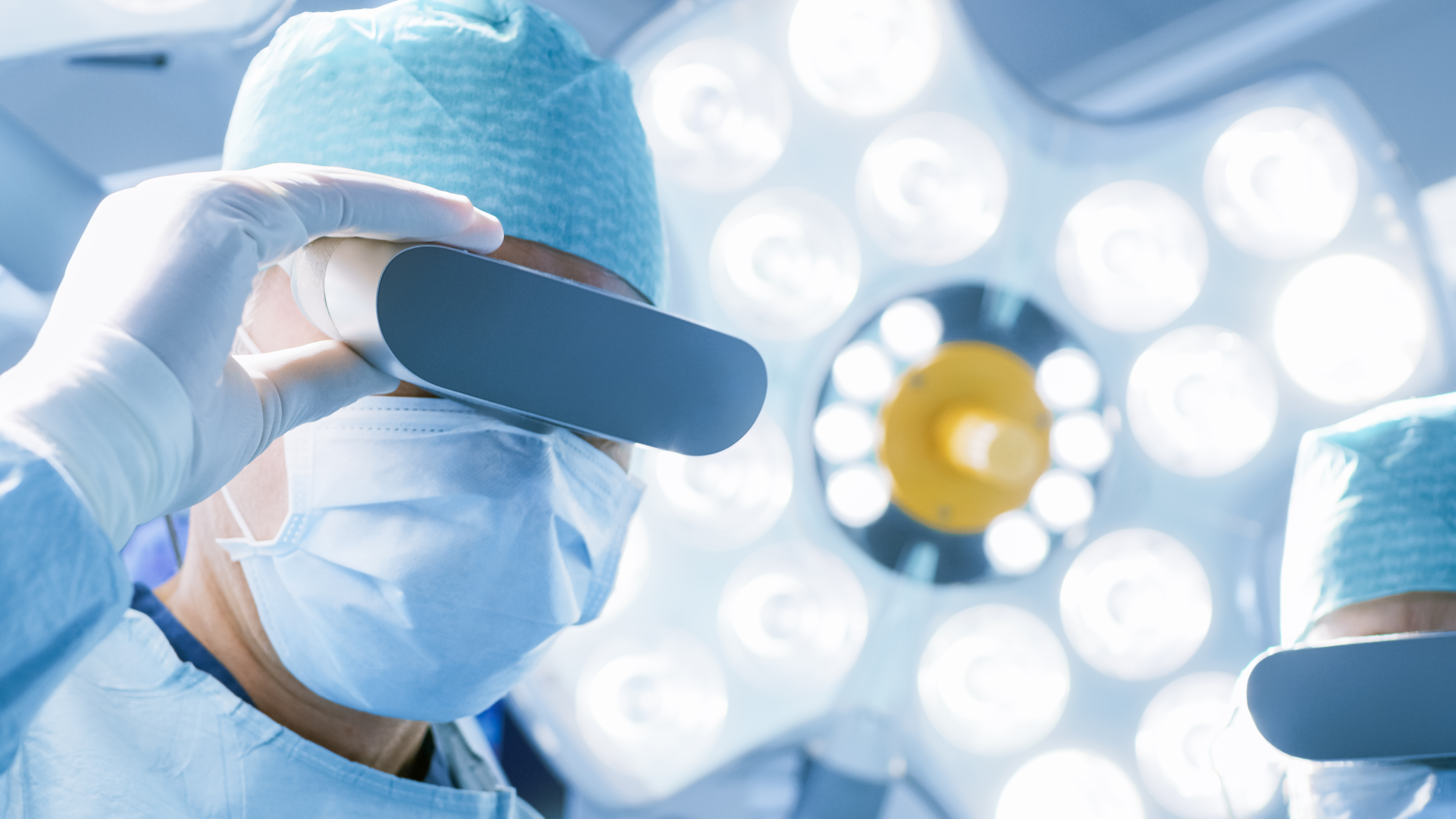 Blended learning began to trend even before the COVID-19 pandemic. Virtual learning tools enhanced in-person instruction by reinforcing concepts learned through a didactic teaching format. However, being a good surgeon requires learning by doing and watching experienced surgeons plan and troubleshoot real-world cases intra-operatively.
Getting surgical residents ready for fellowships and their practice in the OR is becoming more challenging because of:
Demand for Minimally Invasive Surgery (MIS) and Robotic Surgery Training: Due to growing patient demand for smaller incisions and shorter hospital stays, MIS and

robotic surgeries are on the rise.

This trend is reflected in the growing interest in MIS fellowship positions that offer surgeons in-depth training beyond traditional surgical techniques. A 2021 study found a 36% increase in the number of applicants to MIS fellowship programs. MIS and robotic surgeries often present steeper learning curves that require more hands-on learning. New surgeons will have to get comfortable working with much smaller incisions and lower overall surgical site visibility in the OR.
More Outpatient TJA procedures May Mean Less Time to Learn: By 2025, almost 68% of orthopedic procedures will be in an Ambulatory Surgical Center (ASC).

Same-day discharges and lower reimbursements for TJAs in ASCs

will increase daily caseload, and there is a greater drive for efficiency.
In the past, when new technologies were introduced, orthopedic surgeons could attend more conferences, surgical training, cadaver labs, and more to familiarize themselves, review cases with their peers, and keep themselves updated. Now, surgical education will have to improve to help surgeons gain more hands-on training without spending significant time away from their practice.
Orthopedic Surgeon Shortage: Fewer medical school students are opting to be orthopedic surgeons. By 2025, there will be a shortage of ~25,000 – 35,000 surgeons (AAMC). Orthopedics is in the list of the top five surgical specialties experiencing this shortage.

Orthopedic surgeons will have to be better trained

to handle a larger case volume when they enter the workforce.
Remote Learning Due to COVID-19 and the Delta variant: When the COVID-19 pandemic hit, the number of elective surgeries like Total Joint Arthroplasties (TJAs) dropped considerably. Resident education went completely online as hospitals and schools minimized large gatherings. As part of COVID-19 infection control protocols, hospitals restricted the entry of non-essential personnel into patient rooms.
Watching experienced surgeons interact with patients - preop and postop - review scans and medical test results with surgical teams and plan for cases has been a hallowed learning experience for residents and fellows. Unfortunately, access to this real-world training has significantly been reduced.
The orthopedic industry cannot write off last year as an anomaly, but as the Delta variant now sweeps across the country, how can we future-proof surgical resident and fellowship training in the near and distant future?
Advances in technology like Augmented Reality (AR) and Virtual Reality (VR) can bridge existing learning gaps in resident and surgeon training.
What is the difference between AR and VR?
Let's get Arnold Schwarzenegger to help us understand the difference between AR and VR.
Remember the famous bar scene in the movie 'Terminator 2' where Arnold Schwarzenegger (as a futuristic cyborg) sizes people up using robot vision? His line of sight is overlaid with text and graphics that offer relevant information about what he sees in real-time. This is what AR or Augmented Reality does.
However, in the movie 'Total Recall,' Schwarzenegger fully believes he is on Mars due to an alternate 3D reality being simulated around him even though, physically, his body is firmly seated on earth. This is how virtual reality or VR works.
With this high-level understanding, let's look at AR and VR in more detail and learn how they are helping the world of orthopedics evolve.
Augmented Reality (AR) for Orthopedic Surgeon Training
What is AR or Augmented Reality?
Augmented Reality or AR is 3D technology that adds a layer of virtual assistance to our very real-world experiences. Simply put, AR is reality + computer-generated imagery.
When you use AR, you are very aware of where you physically are – in your office, the OR, a classroom, or even your home. AR goggles or apps merely project computer-generated visuals to enhance your experience.
The popular game, Pokemon Go, is an example of AR technology in action. The app projects images of Pokemon characters on real-world landmarks for players to find.
AR in the OR
AR is now being used in orthopedic surgery to help improve the accuracy of bone cuts, navigate complex cases, fix fractures, and resect tumors. AR goggles project holograms of each patient's anatomy onto the surgical site. These visuals offer surgical guidance during MIS surgeries where visibility is lower due to smaller incisions. AR goggles also eliminate the need for surgeons to repeatedly look up at a navigation monitor or screen throughout the surgical procedure to assess bone cuts, alignment, the effectiveness of trialing, and more.
AR for surgeon training
AR can be helpful when residents, fellows, and surgeons-in-training can view actual cases being performed in surgery. AR can help the trainee see what the operating surgeon sees in the surgical site, understand the complexities of a case, the technical steps involved in MIS and robotic surgeries, and learn how to troubleshoot complex surgeries.
Virtual Reality (VR) for Orthopedic Surgeon Training
What is VR or Virtual Reality?
Virtual Reality or VR generates 3D computer simulations that make users feel they are in an environment completely different from their reality. Developed by NASA to train their astronauts, VR has become a mainstay in the world of aviation. VR simulates realistic flight scenarios to train and certify pilots for flight. The gaming industry jumped on the VR trend to offer their customers an immersive experience.
Orthopedic surgical trainees can supplement their didactic, bone model, and cadaveric training with immersive 3D VR technology.
Cadaveric training is the best way for surgical residents and surgical trainees to learn but have their limitations:
Cadaver labs are expensive: Providing cadavers, instrumentations, and trial implants for each resident or surgeon-in-training is cost-prohibitive
There is no blood involved: Managing blood loss is a critical part of surgery.
One cadaver is shared between trainees: Trainees who often have to share a cadaver may not get to perform the entire procedure from start to finish which is an integral part of the learning process.
Cadaveric bone quality affects learning: Varying bone quality in cadavers is similar to the real world, where surgeons have to work with what is presented to them. However, during the learning phase, working on highly osteoporotic cadavers may hinder the ability to practice bone cuts, trialing, and implantation effectively.
Reproducibility: A cadaveric joint can be used only one time during training. There are no do-overs when a ligament is cut or alignment is sub-optimal. For new residents, repetition can help enhance learning.
Limited exposure to complex cases: Students may not learn about complex cases or implant extractions in revision scenarios during cadaveric training. It also is challenging to teach residents and fellows how to resect and manage large tumors in orthopedic oncology.
Virtual reality can help overcome these challenges. Surgeons can even test their students using VR on a variety of surgical steps. Through intelligent surgery, surgeons can plan for and walk their surgical teams through responsive, patient-specific models entirely in 3D.